Welcome to the Little Buckeye Learning Center
Why Little Buckeye Learning Center
Little Buckeye Learning Center is a privately owned facility and has been in operation since March 31, 1971. Since our inception, we have prided ourselves on providing families with quality care and education in the Northern Columbus community. Our program strives to produce long lasting relationships and experiences to help meet the needs of each individual child. We know that choosing the right care for your child is one of the most important decisions your family will make. At LBLC, we understand your priorities, needs and concerns. Your family can rest assured we work tirelessly to deliver on our company's mission: Quality and efficient care that shapes our future, one child at time.
Little Buckeye Learning Center received our third star for Step Up to Quality in June 2018! We would like to thank our staff, directors, and especially our awesome kids. Keep up the good work!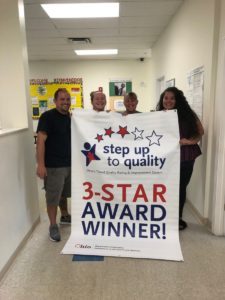 LBLC by the numbers!
years of service to the Columbus community
Combined years of teaching experience