The Best Daycares in Columbus OH Follow a Routine
The best daycares in Columbus OH, like Little Buckeye Learning Center, know that children need a routine. A routine creates familiarity, which allows a child to feel more confident and comfortable in a childcare setting.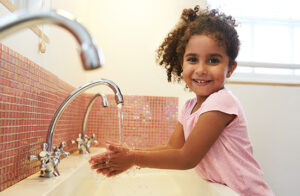 Routines Can Teach Good Habits
Washing your hands before you eat is a good habit. But a child has to practice that routine before it becomes a habit. We practice that routine at Little Buckeye's as well as other health and safety habits.
Set Routines Enhance Learning
When a child knows what is happening now and what should come next, he can focus on the activity at hand. Greater focus leads to greater learning. Additionally, the regular repetition of a routine, promotes rote learning for many tasks.
Routines Teach Children How to Manage Time
To be useful, a routine needs to allow enough time for an activity to get done. Otherwise, the routine can be too stressful for a child. Having the same amount of time every day to complete the same activity teaches a child just how long something takes.
A Good Routine Demonstrates Flexibility
Routines, by their very nature, are regular and predictable. But they should also have some flexibility. Varying from the routine occasionally helps a child learn to be flexible. When you deviate from a routine, you should explain to the child why you're not sticking to the normal routine. Then, ensure the child that you will be returning to the routine.
The Routine at Little Buckeye Learning Center Is Never Boring
With our award winning curriculum, Learning Beyond Paper, we have access to over 4,000 daily activities. Our curriculum provides children with what they need to thrive in today's world, including collaboration, problem solving, and critical thinking.
Learn More about One of the Best Daycares in Columbus OH
The Little Buckeye Learning Center preschools are proud to be a member of Ohio's Step Up To Quality Program. We are committed to excellence and provide the highest levels of childcare in Ohio.  We have 2 preschool locations in Columbus, as well as a daycare in Sunbury, OH and a daycare in Delaware, OH. Give us a call today or request information.