The Best Daycares in Columbus Teach Socialization Skills
When searching for the best daycares in Columbus, OH, many parents are eager to find one with a good teaching curriculum. At Little Buckeye Learning Centers, we have an award winning curriculum called Learning Beyond Paper. It offers children the opportunity for hands-on exploration and discovery. But we know that young children have to learn social and emotional skills before they can learn academics. 
Functioning in a Community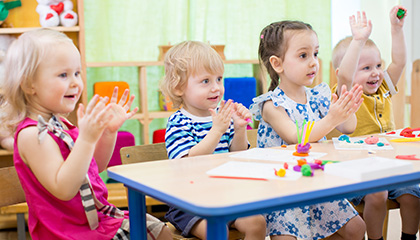 We all function in multiple communities – the neighborhood community, the work community, the home community, the church community, etc. Preschool children must learn how to function in a community too. They are learning, maybe for the first time, how to be part of a classroom community. Our curriculum focuses on socialization skills that help children understand what it means to be part of a community.
Socializing in a Community
Our goal is to help children become a well-rounded student, friend, family member, and community member. That's why so many of our activities focus on socialization. These include activities such as sharing crayons, playing with an object as a group, and eating together. These activities help develop important skills such as teamwork, patience, and understanding.
Developing social skills help your child to:
manage his own feelings.
understand the feelings of others.
Identify and be sensitive to the needs of others.
interact with peers and those in authority respectfully.
Using Age-Appropriate Activities
At Little Buckeye, we know just what kind of activities are appropriate for the age of the child. As an example, our infants and toddlers program recognizes that a two-year old usually plays independently not "with" another child. For this age, our program introduces "parallel play." That is, we encourage a 2-year-old to play side-by-side with another child, rather than interactively playing with the child.
Ohio's Best Daycares in Columbus, Delaware, and Sunbury
We invite you to learn more about why Little Buckeye Learning Center is one of Ohio's best daycares. Use our online form to request more information for a location near you.